What we make has been making industries better since 1865.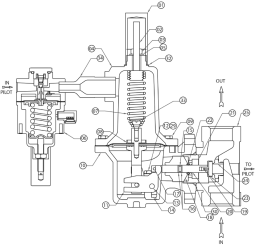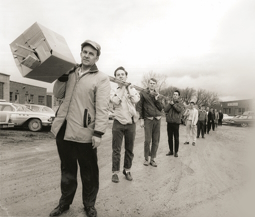 140 YEARS OF MANUFACTURING EXCELLENCE
The history of Marsh Bellofram provides a look into the history of American manufacturing in the 20th century, and how it adapted to prepare for the needs and challenges of the 21st and beyond. It's a story of smaller companies coming together to combine strengths, vertically integrate where it made sense, be strategic in their growth, and better serve a similar customer base.
Headquartered in Newell, West Virginia, USA, The Marsh Bellofram Group of Companies is an AS9100D and ISO9001:2015 certified, leading global manufacturer of high-performance OEM, industrial and process control instrumentation, including timers and counters, digital controllers and panel meters, RTDs and thermocouples, FRLs, cylinders, natural gas and propane pressure regulators, air pressure regulators and transducers, tank and liquid level measurement systems, pump and motor protection switches and alternating relays, as well as sensors, DC tachometers, encoders, industrial diaphragms, and specialty silicones.
Products are organized and sold under fully dedicated divisions, each staffed with an experienced and highly trained team of dedicated technical sales, applications engineering and customer service support personnel.
Company divisions include:
Automatic Timing & Controls, ATC Diversified Electronics, BelGAS, BelGAS CP, BelGAS FM, Bellofram Diaphragm Division, Bellofram Precision Controls, Bellofram Silicones, EZ Flow Control, Marsh Medical, Thermocouple Products, and WNS Lowery.
Marsh and Bellofram were sister companies of the Desco Corporation. They were combined into Marsh Bellofram in January 1995.
Prior to that, Bellofram was originally established in the Boston, Massachusetts, area in 1953 to manufacture elastomeric rolling diaphragms. John Taplin, the founder and original owner of Bellofram, designed air cylinders, air regulators, gauge protectors (diaphragm seals), and other pneumatic and hydraulic devices using his diaphragms. In the early 1980s, Rexnord purchased Bellofram, and then in 1986 sold Bellofram to the Desco Corporation of Columbus, Ohio.
Desco moved Bellofram from its plants in Pelham, New Hampshire, and Burlington, Massachusetts, to the Newell, West Virginia, facility — designed, constructed, and fully integrated specifically for the high-volume, high-precision manufacture of elastomer products.
Meanwhile, the instrumentation arm of the company was originally established in 1865 in Skokie, Illinois, as the James P. Marsh Company. Marsh was acquired in 1988 by Desco and relocated to Hastings, Nebraska, to share operations with Desco's Marshalltown Instruments. Marshalltown had been founded in 1918 in Marshalltown, Iowa.
Since Marsh Bellofram became one entity in the 1990s, it has continued to grow with strategic acquisitions that play to its core strengths of process, automation, measurement, and control. It is built for continued growth through the highest product quality standards, critical manufacturing capabilities, innovative engineering, and an unparalleled dedication to customer service and support.
Our Mission
---
Marsh Bellofram is a world class instrumentation manufacturer, with powerful product support, and near flawless distribution. Our mission is to engage the current and future needs of our customers with swift, professional service while providing the highest quality instrumentation products at the most competitive prices.